All EU countries must be prepared to send security staff to the bloc's external borders, German Chancellor Angela Merkel has said.
She said it would be unfair to ask EU countries seeing the majority of initial migrant entries to secure borders as well.
Mrs Merkel was speaking as she arrived at an EU leaders' summit in Brussels.
The meeting aims to secure Turkey's agreement to a plan to halt the flow of refugees trying to reach Europe.
Nearly 600,000 migrants have reached the EU by sea so far this year, many of them travelling from Turkey to Greece before seeking to head north.
"It's quite obvious that only a few countries today take the majority of refugees and if these countries now are asked to secure the external borders on top of that, I don't think it would be what we could call a fair distribution of effort," Mrs Merkel said.
She described the current situation as "very disorderly".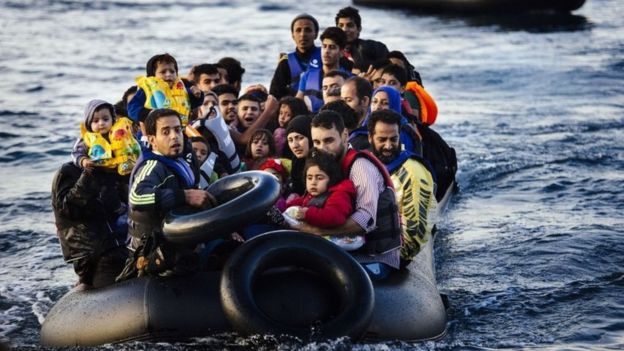 The summit aims to tackle the migration crisis by working with non-EU countries, protecting the EU's external borders and ensuring some migrants are sent back.
Estonia's Prime Minister Taavi Roivas said immediate action was needed to preserve the EU's borderless Schengen area, which has come under increasing pressure, with some states reintroducing controls to prevent migrants from crossing borders.
Meanwhile Hungary's Prime Minister Viktor Orban said his country would decide whether to close its border with Croatia by Friday.
Hungarian state TV reported Mr Orban as saying he would prefer the EU to defend its external border in Greece but could seal its Croatian border "within an hour if necessary".
There were also calls for member states to address the causes of migration by providing more money for Syrian refugees in Jordan, Lebanon and Turkey and for development in Africa.
"Member states need to put their money where their mouth is," said EU foreign policy chief Federica Mogherini.